Priscila's Initiation
Priscila is a young & pretty woman who is a little bit shy but curious enough to go with Pierre to special parties. This time around, the party is bound to be much crazier than usual though. Indeed, Priscila will learn new ways of making her body speak and experience some quite extreme sexual pleasures. Introduced to the underworld by Patricia, Prisicila will slowly lose herself in all sorts of games, intimate caresses, eager fellatios, threesome and domination. To her own surprise, she will even have a devastating orgasm whilst playing with girls. But the cherry on the cake will come later in the night when our beautiful Priscila ends up having sex with four hungry young hunks…all at once!
An explosive new Marc Dorcel production that pushes the boundaries of sensuality and eroticism. Fellatios and cunnilingus, penetrations and deep sodomy succeed one another whilst our very hot and shameless girls surrender to the most extreme of excesses.
Scene Breakdowns
Scene 1. Alexa Weix, Priscilla Sol, J.P.X.
Scene 2. Sharka Blue, Sylvia Laurent, Frank Major
Scene 3. Liliane Tiger, 2 guys, Ian Scott
Scene 4. Priscilla Sol, Sylvia Laurent
Scene 5. Judith Fox, Sharka Blue, Lauro Giotto
Scene 6. Priscilla Sol, 3 guys, J.P.X.
Intro: Marc Dorcel has been making quality porn in France for at least the last 25 years, but unfortunately till recently his movies have been hard to find in the United States. Thankfully, Wicked has stepped up to the plate and provided distribution in the United States. His movies are very consistent in terms of quality and feel. The camera work is usually excellent, and the girls are the best Europe has to offer. This movie chronicles the decent of Pricilla, a newbie to the business, as she goes from uptight business woman to filthy whore.
Scene 1: Linda Shane and Guy- strobe lights and other colored lights distracting. Hitting her from behind while she wails. Pricilla comes in and jacks dude off onto Linda's face. Scene is only couple minutes long.
Scene 2: Elegant candle lit room. Girl handcuffs blond to wall and makes her watch while she fucks dude who is wearing a suit. Both girls wearing thigh highs. Starts with a job with guy still dressed, then moves to the floor where she plays with herself on the oriental rug before dude comes down and joins her. Lays down behind her, still wearing shirt and tie, and tosses his dick in and starts nailing. The blond has got hold of a dildo is playing with herself. CG and RCG. This sex is real folks. No acting. She ss throwing her head back and grinding her hips trying to get the most out of it. Jerks him off all over her face, including her eyes. Nice slow cleanup.
Scene 3: Liliane Tiger and 3 guys: There is something to be said about a girl who has a pierced tongue, pierced clit, several tattoos; and yet somehow manages to extrude class, even with 2 or 3 dicks inside her. Liliane is on fire here, you can see that she is totally getting off from all the man meat around her. Anal. First guy cums on the tattoo above her pussy. Then we cut into the 4th scene for 30 seconds, before coming back to see Liliane getting DP'd. the second guy has his dick jerked off between Liliane's boobs, she then rubs them into her self till nice and shiny. She jerks the last guy off into her mouth.
Scene 4: Pricilla and another Brunette. Pricilla has a nice landing strip. Black latex gloves during dildo play. Gloved fingers in ass. For some reason the cuddling at the end I found stimulating. Curring in black and white.
Scene 5: Sharka Blue, Judith Fox?, and Guy. Hats and viels. Smoking cigars. Foot play with the two girls rubbing the guy's dick with their thigh high stockings. Lots of blowing smoke from the girls. Highlight was the blond riding reverse cowgirl while brunette was reaching in with her leather gloves. Blond does anal. Share the cumshot, whith their veils on, with a nice cleanup, then some sloppy kisses. Scene didn't quite do it for me, the brunette was lackluster, and Sharka wasn't quite able to make up for it. On the other hand, those with a foot fetish, a smocking fetish, corset fetish, or a stockings fetish should enjoy it.
Scene 6: Pricilla and 4 guys wearing masks (condoms)- They call it a gangbang, it really isn't. The guys line up, and they each fuck her, blow their load, then it is on to the next guy. She even jerks one guy off onto his own chest. Very anticlimactic.
Sex: Highlight was Liliane's scene with three guys. Scene's 2 was also awsome, and three was pretty good. However, the last two scenes fell far short of their potential. I feel insulted that they could even think about calling that last scene a gangbang. 3
Girls: I like brunets, I like natural tits, and I love Lillian Tiger. And Priscila, where did she come from? This girl lookslike a 19 year old Tera Patrick, still firm and natural. 4.5
Audio/Video: Watch this movie on a new TV. The first time I watched this movie was on the older TV in my bedroom, and I wasn't impressed. All the action takes place in dimly lit rooms, and at the beginning the sex was lost in the shadows. When I moved into the living room on the 42-inch, the movie came to life. 4
Plot and Acting: The plot was pretty simple, and there really wasn't any acting, the movie consisted entirely of Pricilla narrating. 3 NA
In the End: The girls were hot. Those who like smartly dressed Euro girls in expensive suites, veils, hats, and fancy lingerie will find that here. Priscila looks gorgeous here, and so far this is one of the only places to see her. But with the lackluster last two scenes combined with it's high price, I would suggest renting this one first.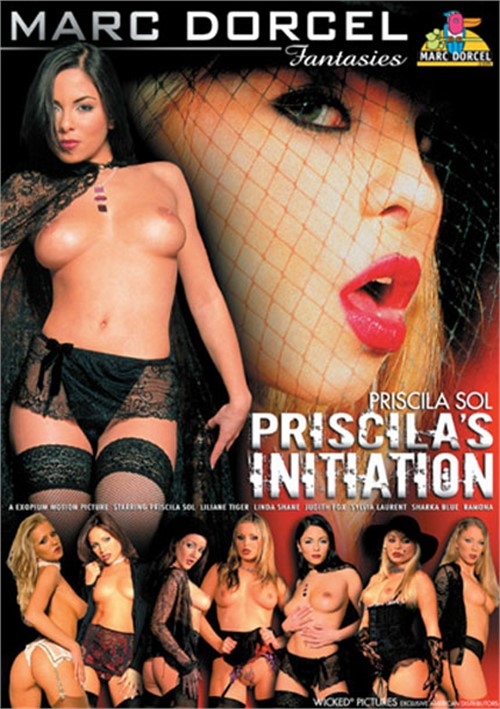 Related porn videos:
Latest porn videos with these stars:
Latest porn videos from this studio: